** Quick note **

Turns out I'm moving. I'm not sure when but it's only a local move so maybe I'll get lucky and keep both my hair or my sanity. This also means it's possible the sewalong could get held up at certain parts but I will try my best to keep up as I can. I hope you'll have patience with me or at least be creative if you want to leave cranky comments to convey your abject disappointment in my overall uselessness. I'm particularly fond of gifs if you've noticed so feel free to express yourself accordingly.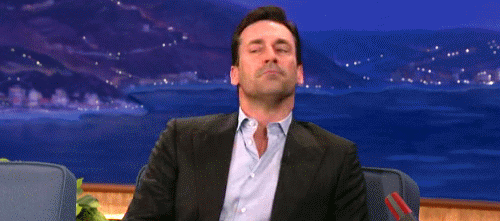 Now that we've finished that part, let's get to the business.
Photograph from The June Bride
First things first, this thing is a beast. My hardware arrived in the mail from
The June Bride
and it was only then that I realized I could probably fit a toddler in this thing. It just so happens I have a toddler so this isn't exactly a bad thing. Strollers are rather unwieldy, don't you think? Of course hanging a toddler from your clavicle isn't exactly comfortable, but I digress. I'm just not good picturing things even when provided dimensions. I had to see it in my hand first and once I did, as you can see, a toddler.
If you aren't interested in carrying around a toddler, you can resize this bag to suit your purposes. You'll just need to scare up a smaller frame. Etsy carries
quite a few
, even some larger ones if you have some preteens in need of handcrafted transportation. The pattern provides directions for changing the size of your bag. They seem easy enough to follow if you're willing to do the math. I hate math but I'm willing to do the math for you if you leave me a comment letting me know what size you're constructing. Otherwise, I'm going to assume you're cool with having extra room for Lindor chocolate and the occasional hard to resist bit of fabric from the remnant bin at Joann's. Just make sure you take the chocolate out of the bag before you leave it in the hot Georgia heat and go getting smooth yumminess all over your handmade creation.
Rabbit sized?
Secondly, the wallet pattern isn't included. Now maybe you read better than I do and already knew that. But I was apparently blinded by the cute pockets and irresistible shape and didn't notice. I want a wallet though so after we've turned out this magnificent bag (don't worry, it will be fabulous) I'll see about finding a pattern and continuing our little sewalong.
Tomorrow we shall discuss what you need to be all ready for my birthday. In the meantime, if you haven't ordered your hardware, please do so now. You're looking for a tubular bag frame, six d rings, and two 1 1/4in swivel clips. The ones from June Bride are a really great weight, consistent in look and feel nice in your hand. Admittedly I don't know much about d rings and swivel clips though so you may very well find something that works at your local craft store or via an online seller.
I'm getting more excited the closer we get to sew time. My bag is going to be rose faux leather and gray velveteen. I need to some help to pick a lining. I've sworn to use my stash for this but I'm dumbstruck with indecision. Regardless, I'm already convinced of my bag's awesomeness. I will keep the secret of life in its little depths and we shall never be parted from each other.