I'm supposed to be wearing a super cute, handmade dress to Mr. Man's Christmas party tomorrow. I've cut out exactly two back and one front on the fold complete with jacked darts. I'm not sure why I do this to myself but now is not the time for introspection.
It is, however, time to start your Advent Scarf! Day one is up
now
so you can awake bright and early tomorrow and
finish this stupid dress you should have had done days ago
and break out the needles and yarn. If you need help, the ravelry group is
here
. Between the girlchild's dance schedule and mr man's Christmas party, I'll be a day late and a dollar short but I hope to catch up on Sunday.
In the meantime, feel free to stare at the pretty yarn I'll be using for my scarf.
It's Madeline Tosh Lace in Robin's Egg Blue and I purchased it after succumbing to peer pressure from my friend Nicole. You see, after feeling up every skein of yarn at my local knitting shop, I finally selected a rather Christmasy black, charcoal, red, and burgundy combo from Cascade Yarns called Licorice Twist. However, as I confessed to another friend, it didn't slap me in the face with its awesome, at least not for a advent scarf. I'd had visions of knitting up something that reminded me of a Nordic fjord and my local yarn store wasn't obliging, at least not at a price that didn't make Baby Jesus cry.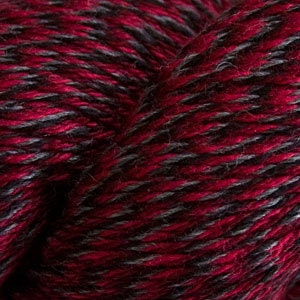 Christmas but not winter
So I settled on the Licorice Twist and went home, defeated and dejected, trying to summon up images of knitting by a fire in an old rocking chair instead of inhaling crisp, cold air and feeling the Scandinavian wind on my cheeks. And so I was at the perfect place in my head for a little yarn nudging and enabling. Nicole had already purchased her yarn and while I despaired of any retailer who isn't Amazon delivering my goods in a timely fashion, she convinced me otherwise. Once she told me Eat Sleep Knit would even ball it up for me, well I had no choice.
So here I am. Now, I'd better get back to the cutting floor and see what can be done with these stupid darts. Booooooooo!