Sometimes a line drawing just doesn't do a pattern justice. Take this unassuming little number from
Burda Style
.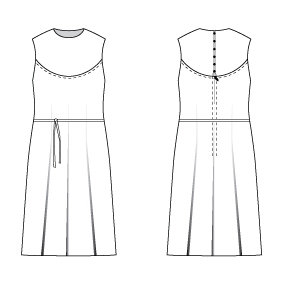 The dress looks shapeless despite the thin little tie and the neckline looks like it might choke you out if you sat down too quickly. I'm not even sure why I clicked through the search listings to see more. But when I did, I was brought to my knees by a wave of desire I haven't experienced since I woke up this morning and remembered there was German chocolate cake on my counter top.

It's called
Gail
and it has something of an Art Deco feel to it or is that just the vaguely Egyptian looking thing on her head giving me that impression? I don't know, I don't care. I just know that I must have and make this dress.
I may or may not be furiously ordering up some cranberry silk georgette as you read this.