That's what I get, right? Yeah, let's just pretend that whole bit never happened, mmkay?
Moving on.
So the whole damned world is obsessed with knit blazers and because I'm about as original as cream of crap recipes on pinterest, so am I. The simple fact is, trends aside, a knit blazer is a nice, yet casual piece that can keep a hot mess like myself from living in full time frumpville with incredible ease. Since I have neither the time nor the inclination to sort around racks with a growling baby while trying to find something that fits in a price range I'm willing to pay, I'm going to make one.
Shut up about all the crap I say I'm going to make and don't finish, okay? I ain't trying to hear that!
From Macy's but no longer available
Please tell me you appreciate all that cute. I could wear it with jeans, with skirts, over summer dresses to carry them into what we call Fall here in hot ass Georgia, etc. Tell me you aren't obsessed too. I've been mulling this little project over in my head for some time now but since I'm more terrified of knits than pinky is of the tripods in War of the Worlds (
It's been five years now since she saw that movie and she's still uncertain around cracks in the pavement)
I've just been sort of sitting on the idea, not thinking much of it.
Well as it often happens when you're playing on the internet instead of sewing a black brocade sheath dress, I fell upon a lovely blog (wo)manned by a housewife after my own heart, the lovely Lisa G at
Notes from a Mad Housewife
.
I wonder if she likes Queen.
And look, LOOK I SAY at what she's made.
I could die, I really could. This is more exciting than the time I finally found a brand of baby wipes that didn't smell like old people or teen spirit.
Huggies One and Done with Cucumber if you're curious.
What's even more exciting are two whole posts detailing how she got it done,
here
and
here
.
And what's super duper coffeeheathbaricecreaminmyfreezer exciting is that there was a
sew along
with detailed instructions on how to accomplish this splendiferous
it is so a word, google
feat by another new to me blogger, the very adorable Sherry at
Pattern Scissors Cloth
and she runs, something I only do when something is chasing me.
So it will be just like having two people hold my fear stricken little hands. If only I could find someone to poke me in the rear end with a cattle prod and cure me of a raging case lazyheiferitis.
Well, in for a penny, in for a pound or so they say because, as hinted above, I've already purchased fabric, a beautiful
Italian Double Knit
from
Fabric Mart
.
To perhaps mitigate the damage to my previous "solemn oath," if indeed that's possible, I will be using a pattern I already own, Burda 7576.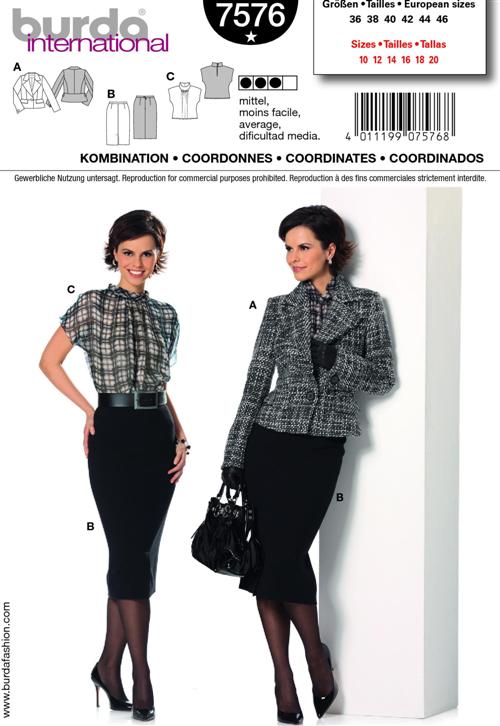 The reviews seem positive enough and between the sew along directions and Lisa G's inspired piece, I think it will look cute. Don't you?
Anyone else itching for a knit blazer? Have you sewn one?