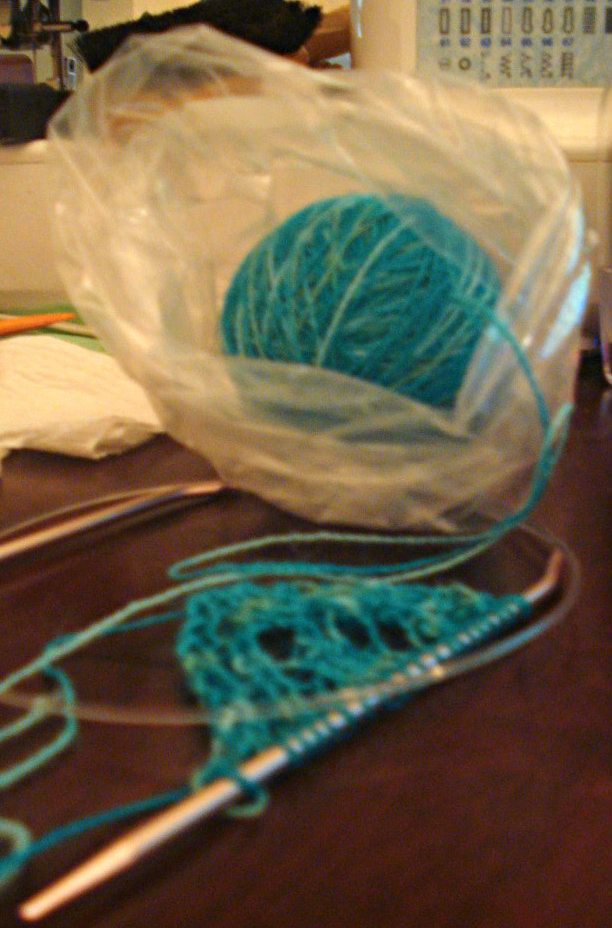 I am a brave, brave soul so be prepared to hold my hand.
I am attempting . . . lace knitting.
It's amazing the things people can do.
Like this gorgeous Estonian shawl.
I know what you're thinking and hell no, I ain't that brave. My eyes are crossing just thinking about it. I'm going to attempt something much more attainable, like this pretty little
Forest Beauty Lace Shawl
.
I've had my eye on it for quite a while but I was terrified of the prospect of turning a hank of yarn into a nice little ball of yarn and further terrified of turning a ball of yarn into a never ending hot mess of tangles roaming around my house like a kitty on crack.
However, I'm a hobag for a good sale so when my dream yarn came up for cheap, I snatched up a hank of this pretty alpaca/silk blend in a color called Shallows. I loooooove the name as the colors remind me of the beach on Guam where I was baptized.
And here's a picture of it all knitted up.
::le sigh::
If I'm lucky, I'll have it all knitted up by Christmas. It will look glorious with the black taffeta and brocade Christmas dress I'm planning. Expect lots of skirt, yards of crinoline underskirt, and perhaps a peek of decolletage.
To my surprise, my husband did not end up having to call the fire department to come cut me out of this stuff using the jars of life. And it didn't take long to ball it up either, only one viewing of one crappy ass kung fu movie set in the Wild Wild West and featuring Geoffrey Rush. Yes, I said Geoffrey Rush. Ugh, this is the crap you end up watching when you have boys.
On the good news front, pete was more than willing to hold my yarn while I balled it up.
He's so useful, that kid. Remind me of that when I'm threatening to sell him.