"I think at many points she educated me. When I met her, she was very concerned about all of the things that we are trying to do now. I never will forget that the first discussion that we had when we met was the whole question of racial injustice and economic injustice and the question of peace. And in her college days, she had been actively engaged in movements dealing with these problems. So that I must admit, I wish I could say, and satisfy my masculine ego, that I led her down this path. But I must say we went down together."
-- Rev. Dr. Martin Luther King Jr., 1967 interview (video
here
)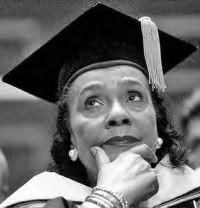 I don't think we give this grand lady near enough credit for her extraordinary life. It would have been easy to say she didn't want to do this anymore. But not only did she support Martin, she worked tirelessly beside him and after his death, all the while raising children with strength and perseverance. So on this day, I want to wish a heartfelt thank you to Coretta, for all that you did and
all that you were
.